Miami is a city located on the Atlantic coast in the south of Florida approximately 1,800 km (1,100 miles) from New York City. It is known for its diverse culture, warm weather and numerous beautiful beaches and parks. The city is a major financial and cultural center in the United States and is considered a gateway to Latin America.
Miami is home to a thriving arts scene, a bustling downtown area and vibrant nightlife. Despite its many challenges, it remains a vibrant and thriving city that is deeply rooted in its diverse history.
A short history of Miami
Miami is a city with a rich history that dates back to the early 20th century. The area was originally inhabited by the Tequesta, a Native American tribe, before it was claimed by Spain in the 16th century.
During the late 1800s, the area began to attract settlers from the north due to its warm climate and fertile land. In 1896, Miami was officially incorporated as a city and quickly grew in popularity as a vacation destination for tourists from the north.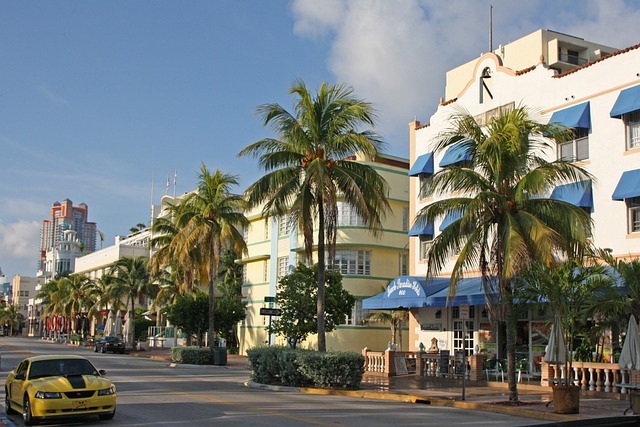 In the early 20th century, Miami began to develop a strong economy based on agriculture and tourism. The city's location on the Atlantic Coast made it a hub for shipping and trade and it became home to a large number of businesses.

In the 1950s and 60s, Miami experienced a population boom as it became a major destination for immigrants from Latin America and the Caribbean. The city's diverse culture and vibrant nightlife attracted many visitors and it became known as the "Magic City."

Sightseeing in and around Miami
Miami Beach is an island off the coast of Miami, connected by bridges to the mainland. It is known for its stunning stretches of white sandy beaches, crystal clear waters and famous nightlife. The most southern part of Miami Beach is South Beach or SoBe and is well known for its Art Deco architecture.
South Beach
The history of South Beach dates back to the early 20th century when it was first developed as a vacation destination for wealthy Northerners. In the 1920s, the area was filled with luxury hotels, casinos, and nightclubs. It became a popular spot for celebrities, politicians, and socialites to vacation and party.
However, in the 1930s, the Great Depression hit and the area fell into decline. Many of the hotels and businesses closed and the area became known for its crime and poverty.
In the 1980s, South Beach underwent a major revitalization effort led by local businessman Tony Goldman. He purchased and restored several Art Deco buildings, turning them into restaurants and clubs. This sparked a resurgence in the area, attracting tourists and young professionals back to South Beach.
Today, South Beach is a popular tourist destination known for its trendy clubs, luxury hotels and sandy beaches. It is also home to a diverse community of artists, musicians, and entrepreneurs. The iconic South Beach is located just off Ocean Drive.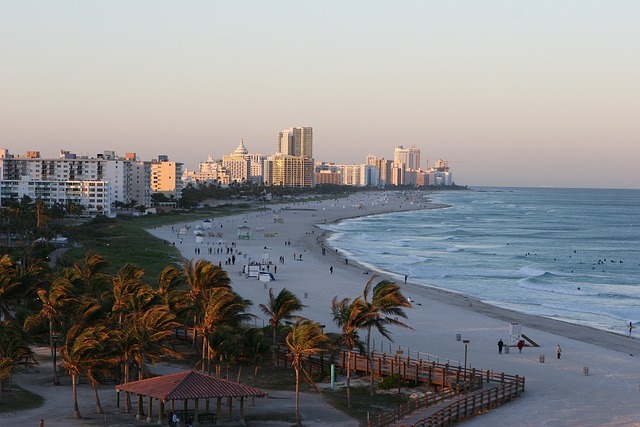 Ocean Drive
Ocean Drive in Miami is a famous road located in the heart of Miami Beach, known for its upscale hotels, luxury condos, and vibrant nightlife. It runs along the Atlantic Ocean and is lined with palm trees, Art Deco buildings and colorful storefronts. The street is also home to many popular restaurants, bars, and clubs, making it a popular destination for tourists and locals alike. In the evenings, Ocean Drive comes alive with music, dancing, and lively crowds, making it the perfect spot for a night out in Miami.
Art and The Art Deco District
The Art Deco District is filled with colorful buildings in the Art Deco style. It's a great place to take a walking tour and learn about the history of the city.
Vizcaya Museum and Gardens: This stunning estate is filled with beautiful gardens, antique furnishings, and artworks from around the world. It's a great place to relax and take in the beauty of Miami.
Wynwood Walls: This outdoor street art gallery features colorful murals and graffiti art from some of the world's most talented artists. It is a must-see for any art lover visiting Miami.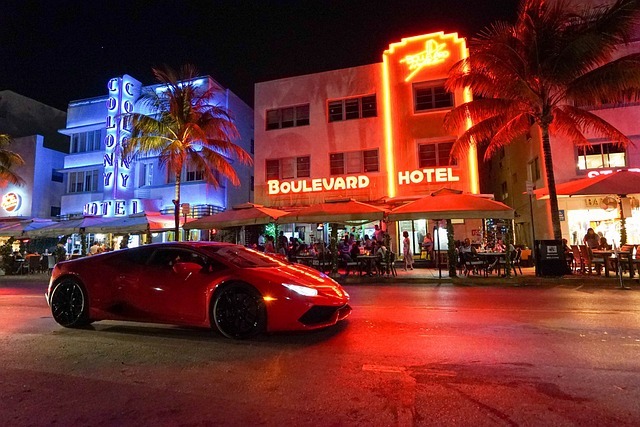 Little Havana and Calle Ocho
Little Havana is a neighborhood in Miami known for its large Hispanic population, particularly Cubans. Located west of downtown, the neighborhood is home to a number of monuments and cultural institutions that reflect the city's Latin American and Caribbean heritage. Nearby is Calle Ocho (SW 8th Street), a main thoroughfare lined with restaurants, cafes and street vendors.
Ocean Drive / Pixabay
Shopping in Miami
Miami has numerous options to shop until you drop. Make sure to visit Bayside Marketplace: This outdoor shopping center is located on the waterfront and features a variety of stores, restaurants, and live entertainment. It is a great place to spend the day and take in the sights and sounds of the city.
What else? Miami is home to a number of professional sports teams, including the Miami Heat (NBA), the Miami Dolphins (NFL), and the Miami Marlins (MLB).
How to get to Miami
By plane: The easiest and most convenient way to reach Miami is by flying into the Miami International Airport (MIA). There are numerous airlines that offer flights to Miami from various cities around the world.

By car: Getting to Miami by car is fairly easy. It is located on the southern tip of Florida and is accessible via several major highways, including the Florida Turnpike, I-95, and I-75.

Arrival by train: The Amtrak Silver Star and Silver Meteor trains offer service to Miami from various cities along the East Coast.

By boat or cruise ship: last not least you can arrive by boat or ship as Miami is home to PortMiami which is the busiest cruise port in the world.